WLAN Controller

Set your network free today with Peplink's business WLAN solution.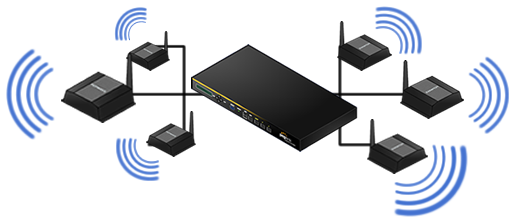 Peplink's business WLAN solution combines an enterprise-grade wireless access point and centralized access point management in one easy-to-use and affordable package. Now you can manage wireless LAN networks of up to 500 Pepwave AP One devices using a single Peplink Balance. With Peplink's WLAN solution, all your mobile devices, including iPhones, iPads, and Android devices, get the same reliable Internet connection that you've come to expect from Peplink -- without the wires!
Built-in WLAN Controller
Simplify your network management by controlling your AP One access point using a centralized admin interface built into the Peplink Balance. Just connect the AP One to the network and it will be detected by the Balance automatically, allowing you manage and setup your access point without an extra AP controller device.

Serious Wi-Fi
Pepwave has designed the AP One to provide maximum coverage. Our specially designed Wi-Fi radio consistently provides high power, reaching an 8x greater area than a typical access point. And thanks to its rugged metal enclosure, the AP One will withstand demanding commercial and industrial environments.

Easy Wi-Fi Portal
Peplink's WLAN solution features a built-in captive portal, which allows you to provide Wi-Fi hotspot service to your customers easily, without extra equipment. From showing a splash screen for free users to accept service terms to creating a user login for your paid customers, you can easily customize your Wi-Fi portal in just a few clicks.

Unified Network Management
By combining the Peplink Balance with our WLAN solution, you can manage all network connections, local client access, and user bandwidth policy using one single package. Administrators can monitor and generate reports on AP activity and bandwidth consumption, giving you complete and easy control over your network.

Simple Setup and Management
With our WLAN solution, advanced networking is a simple plug and play affair. Pepwave AP One devices will work with the Peplink Balance without additional configuration, and setting up enterprise-grade WLAN or hotspot service takes only a few minutes.

One-box Solution
Unlike typical WLAN solutions which require purchasing a separate AP controller, Peplink's WLAN solution is built on top of the Peplink Balance, allowing you to expand bandwidth, increase network reliability, and manage all your access points using a single device. With our WLAN solution, there's no extra equipment to maintain or hardware to purchase.