AP Controller

A Software-Based AP Management Tool Built into all Peplink Balance and Selected Pepwave MAX Routers
Peplink's AP Controller, a software-based AP management tool built into all Peplink Balance and selected Pepwave MAX routers, lets you manage your entire wireless network from your router. Peplink's AP Controller works seamlessly with the AP One and AP Pro, providing advanced, enterprise AP management that's plug-and-play easy. Setup is fast and access points are detected automatically, giving you immediate control over configuration, usage, and much more. You also get in-depth reporting that's available 24/7 on all your devices, so you're always up-to-date.

Clear, Comprehensive Reports
With the Peplink AP Controller's array of included reports, detailed Wi-Fi network statistics are just a click away. Whether you're working directly from your Balance router or on a tablet or smartphone halfway around the world, you get instant access to client statistics and data usage, broken down by access point, signal frequency, and time interval. The AP Controller also includes a client event log that gives you at-a-glance insight into user behavior, as well as alerts to events that require further investigation, such as suspected rogue access points.
Custom Captive Portals
Got a busy hotel, campus, or restaurant? Give visitors a customized, branded Internet experience with captive portals. Simply modify the AP Controller's built-in captive portal with your logo, terms and conditions, and other information. You can easily control connection time and speed, data usage limits, and more.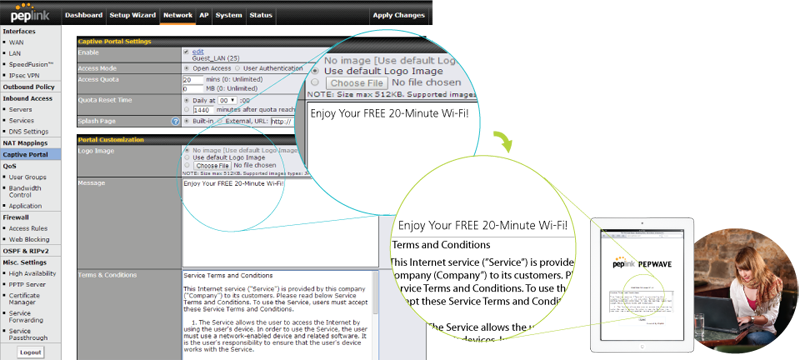 Automatic AP Setup
With Auto Provisioning, Peplink's AP Controller can scan your network for new access points and configure them automatically. And it keeps an eye out for rogue access points and logs suspicious additions to your network, giving you extra peace of mind. You can even remotely push firmware updates to any or all of your access points.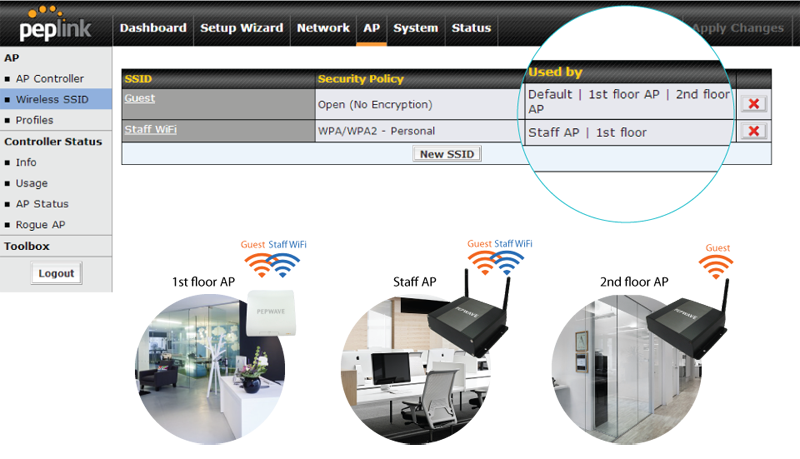 FAQs
Which Peplink/Pepwave devices support Peplink's AP Controller?
Our AP Controller is available in two versions: AP Controller Standard and AP Controller Pro.
Balance 20/30/30 LTE/50/One/210/310, as well as the MediaFast 200/500 and the Pepwave MAX 700/HD supports AP Controller Standard.
Balance 305/380/580/710/1350/2500 supports AP Controller Pro.
AP Controller Standard supports one configuration profile (with multiple SSIDs), meaning that all APs will share the same configuration, and you can only manage APs on the local physical LAN. AP Controller Pro supports multiple configuration profiles coupled with multiple SSIDs, and you can manage remote APs outside the local physical LAN.
Licenses are available separately for AP Controller Pro to manage additional AP.
Can I manage APs from other vendor with Peplink's AP Controller?
No, Peplink's AP Controller supports the Pepwave AP One and AP Pro only.
I have a Peplink Balance or Pepwave MAX 700/HD2, but the AP Controller feature is not available. What can I do?
Peplink's AP Controller is supported on Peplink Balance 305/380/580/710/1350/2500 routers running Firmware 5.3.9 or above. The AP Controller is supported on Peplink Balance 20/30/210/310 routers and Pepwave MAX 700/HD routers running Firmware 6.1 or above. To use Peplink's AP Controller on devices running previous firmware versions, as well as take advantage of the latest features and improvements, please upgrade your device's firmware to the latest version.
Can I manage my Pepwave APs with both InControl and AP Controller at the same time?
No. All Pepwave AP One and AP Pro devices will be automatically managed by Peplink's AP Controller when the feature is enabled. To use InControl for management, first disable the AP Controller feature on your Peplink Balance/Pepwave MAX.