Pepwave SpeedFusion Cloud

Keep Your Connection Flowing
Sorry, this product is no longer available, please contact us for a replacement.
More pricing below, click here!
Overview
From video streaming to online collaboration, everything depends on consistent Internet. When your line goes down, It can take minutes or hours to recover. Even with a backup line, it could take 30 seconds for the router to reconnect… unless you have SpeedFusion Cloud. SpeedFusion instantly switches between connections so there's zero downtime, opening up a wide range of possibilities.
Protect Your VoIP Calls
Use a secondary Internet connection to get seamless call hand-off when your primary connection fails. Use Hot Failover to ensure your calls will remain uninterrupted.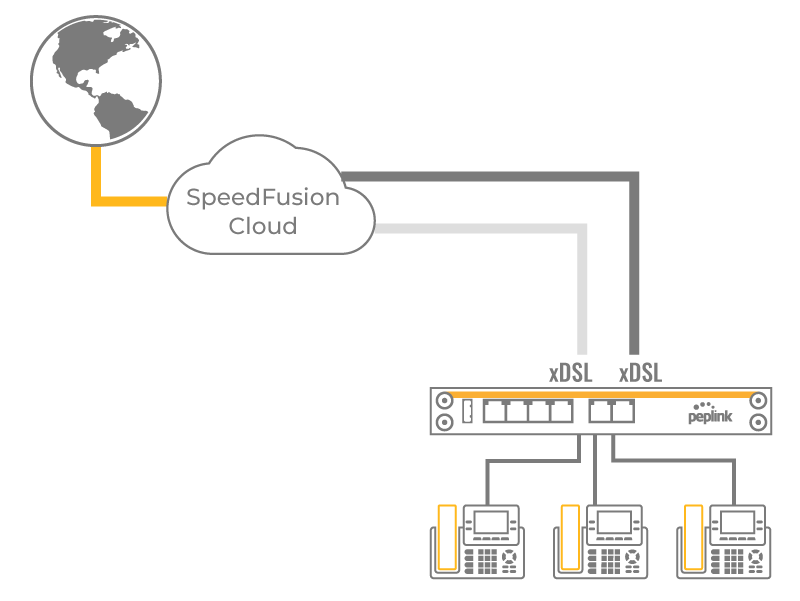 Protect your Credit Card Processing
Ensure that your PoS stays connected with a backup cellular connection. Never resort to using the credit card roller and filling out paper forms. Even if a line disconnects mid-transaction, Hot Failover will ensure that it will go through.
3 Technologies to Make Work From Home Work Great
Access shared files, cloud services, and videoconference as if you are still in the office. Use Bandwidth Bonding to make your Internet fast and unbreakable, use Bandwidth Overflow to minimize data costs, and use WAN Smoothing to make your videoconferencing consistent.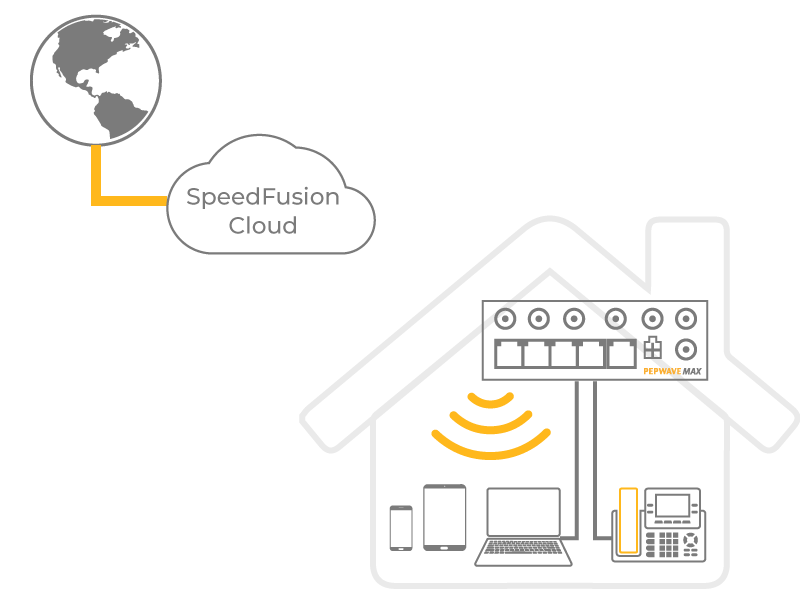 Give Road Warriors Smooth Connectivity
Securely connect to HQ using any connection, no configuration needed. Hotel Wi-Fi, cellular link, and landlines: connect with them all. Use WAN Smoothing to improve VoIP quality even when using a single WAN connection.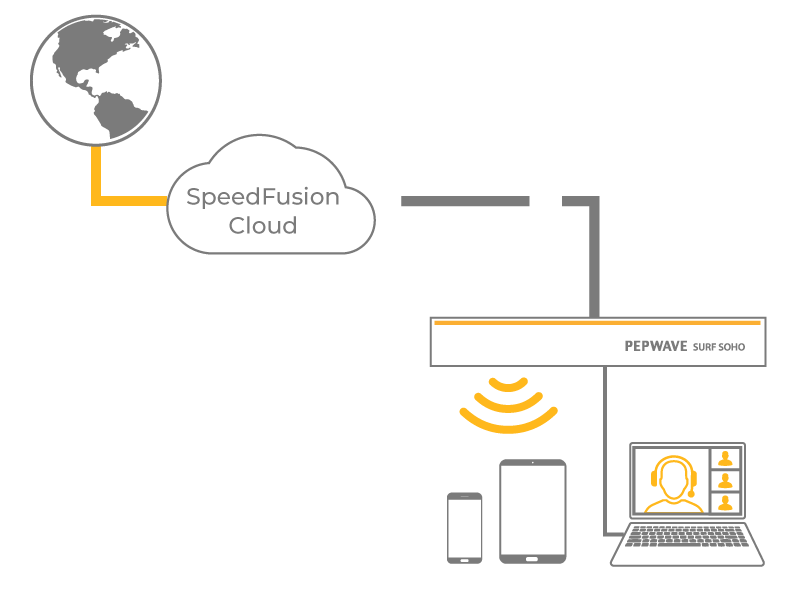 Make Video Conferencing Unbreakable
Deliver clear and consistent video conferencing performance: stop playing "guess the word" with your colleagues and students. WAN Smoothing will improve your streaming whether you have single or multiple connections.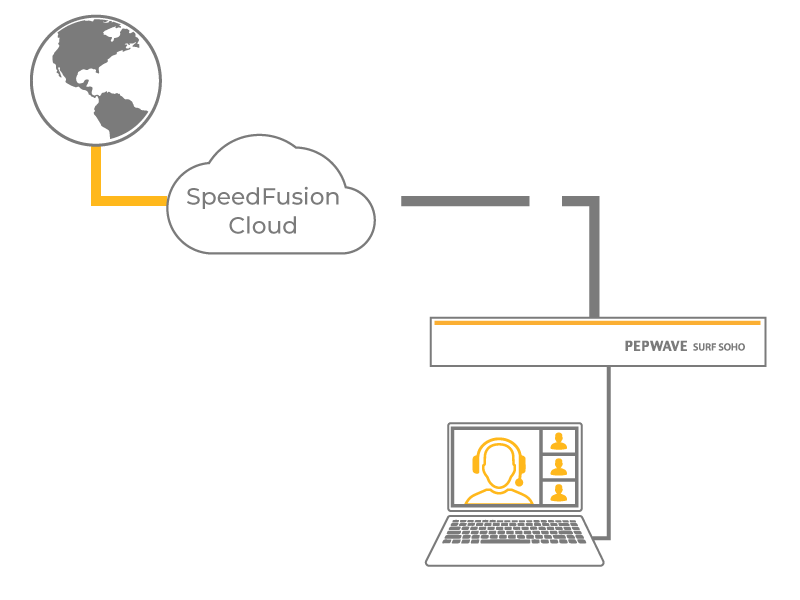 Connect Better to Cloud Services and SaaS
Experience blazing fast uploads and downloads from Dropbox, OneDrive and Google drive. Enjoy fast and unbreakable access to Azure, AWS, and cloud-based SaaS providers. Use Bandwidth Overflow to minimize network costs.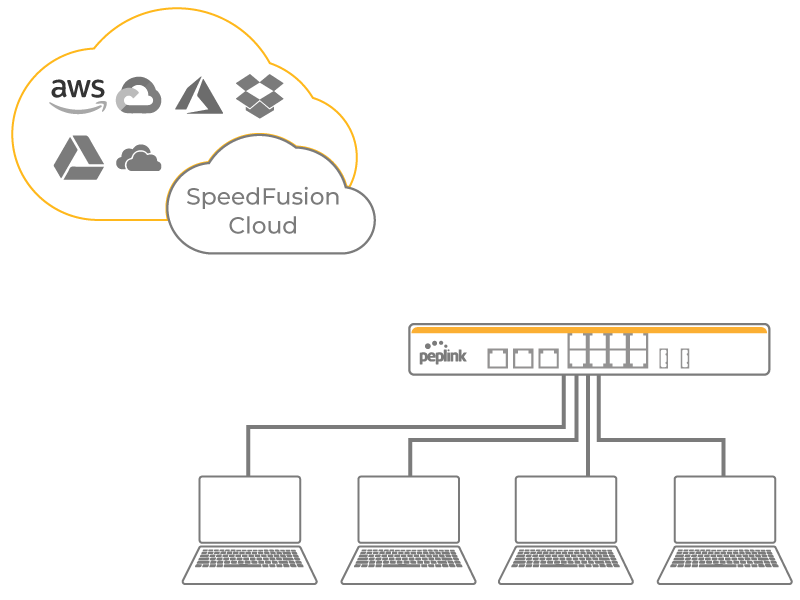 How it Works
We've hosted SFC nodes in public clouds all over the world. Your device builds a SpeedFusion connection with one of our nodes for unbreakable connectivity.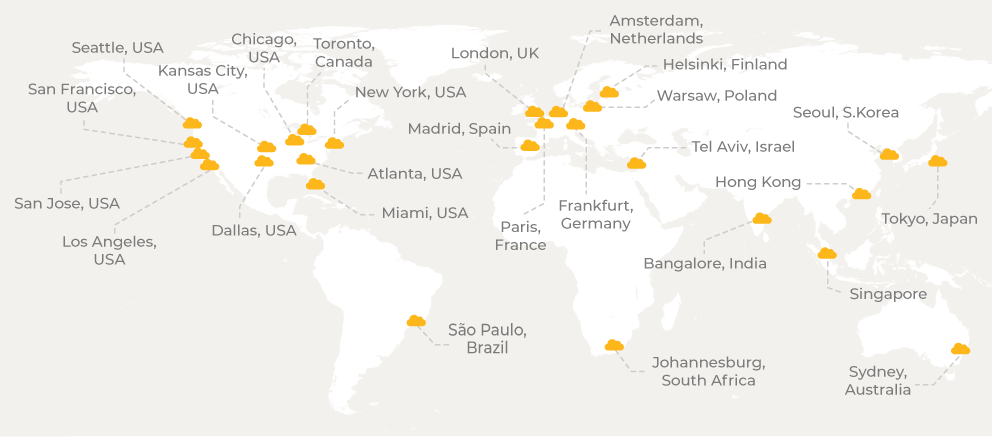 Pricing Plans
| | | | | |
| --- | --- | --- | --- | --- |
| Product Code | Product Name | Usage | Speed | Validity |
| SFC-DP-TOP-B | SpeedFusion Cloud Top Up Plan B | 500 GB | 200 Mbps | 6 months |
| SFC-DP-TOP-C | SpeedFusion Cloud Top Up Plan C | 1 TB | 200 Mbps | 1 year |
| SFC-DP-TOP-D | SpeedFusion Cloud Top Up Plan D | 2.5 TB | 200 Mbps | 1 year |
| SFC-DP-TOP-E | SpeedFusion Cloud Top Up Plan E | 5 TB | 200 Mbps | 2 year |
| SFC-DP-TOP-F | SpeedFusion Cloud Top Up Plan F | 10 TB | 200 Mbps | 3 year |
---
Pricing Notes:
Pricing and product availability subject to change without notice.
Peplink Products
SpeedFusion Cloud
SpeedFusion Cloud Plan B�
500GB Data at 200Mbps Speed, Valid period 180 days
#SFC-CLD-B
Our Price: $20.00
SpeedFusion Cloud Plan C
1TB Data at 200Mbps Speed, Valid period 365 days
#SFC-CLD-C
Our Price: $40.00
SpeedFusion Cloud Plan D
2.5TB Data at 200Mbps, Valid period 365 days
#SFC-CLD-D
Our Price: $80.00
SpeedFusion Cloud Plan E
5TB Data at 200Mbps, Valid period 2 years
#SFC-CLD-E
Our Price: $159.00
SpeedFusion Cloud Plan F
10TB Data at 200Mbps, Valid period 3 years
#SFC-CLD-F
Our Price: $299.00