Pepwave InControl 2

Cloud Based Device Management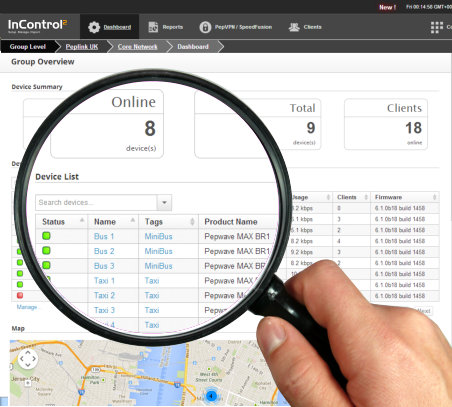 Peplink Products
Pepwave InControl 2
1-Year InControl2
#ICS-012
Our Price: $29.00
2-Year InControl2
#ICS-024
Our Price: $49.00
InControl 2 is our cloud based device management, monitoring, and reporting tool designed specifically for Peplink and Pepwave devices.
Any of our devices can now be registered for InControl 2. With InControl 2, you get advanced administration tools, unprecedented device visibility, and comprehensive reporting.
Complete Device Management

Fleet Management
InControl 2 provides full fleet management when used in combination with our vehicle-mounted, GPS–enabled devices, such as the MAX HD2 and BR1.
Track your devices wherever they are using our interactive maps. Check vehicle speed, cellular coverage, and traffic conditions. Play back route histories in real-time.

| | | |
| --- | --- | --- |
| Locate | Track | Monitor |
| Easily find any device using interactive maps. Point and click to see device details, such as cellular signal strength and number of clients. | Track location over the past 24 hours or review any 24-hour period. Play back route histories in real-time or at high speed to see exactly where a vehicle was at any point. | Use the color-coded tracking feature to monitor real-time vehicle speed. Drill down through tracking history data to spot speed patterns. |
Centralized SpeedFusion Management
InControl 2 supports SpeedFusion VPN configuration and management. Just create a SpeedFusion profile and apply it to all devices in a group. InControl 2 then automatically configures SpeedFusion VPN settings on all devices, giving you a centrally managed SpeedFusion deployment in minutes.
Fully Automated SpeedFusion VPN Configuration

Fully Automated SpeedFusion VPN Configuration and Deployment
Manage SpeedFusion settings from a central location
Get live SpeedFusion status information
Monitor bandwidth across site-to-site VPN links
Push SpeedFusion changes to devices immediately
Device Monitoring and Management
Check the status of all your devices at a glance. Monitor client volume and bandwidth usage across your deployment.
Locate

Track

Monitor

Bandwidth Monitoring

View real-time bandwidth usage and spot usage anomalies for each live device.

Device Dashboard

See all your devices from an easy-to-use dashboard.

Client Overview

Drill down to see all active clients and their current bandwidth usage.
Firmware Management
InControl 2 provides complete firmware management and firmware rollout scheduling.
See the current firmware version of all your devices. Schedule automated firmware updates for groups of devices.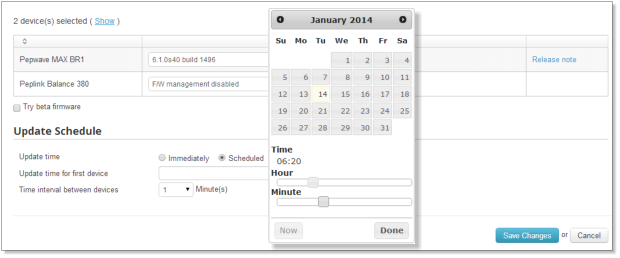 Locate

Track

Monitor

Monitor

Enterprise Ready

Designed to fully support complicated enterprise business structures, InControl 2 lets you manage and organize your devices in the best way for your business and customers.

Configuration Backups

Never lose device configurations again. When you save device settings, InControl 2 backs them up to the cloud.

Beautiful Reports

Really understand your network and how clients are using it. Spot potential bandwidth capacity issues before they become a problem. Identify your heaviest bandwidth consumers.

Intelligent Notifications

Coordinate email notifications between administrators with two-stage escalation. Combine with our free smartphone Router Utility app for push notifications on WAN failure.
Pricing Notes:
Pricing and product availability subject to change without notice.
InControl 2 is available immediately as a free cloud service (hosted at Amazon Web Services in the US) for Peplink customers with in-warranty devices. For following out-warranty devices, 1-year and 2-year InControl 2 subscription are also available. Out-warranty devices that are not listed below, please purchase TotalCare/SmartCare instead.

InControl 2 subscriptions are applicable to:
Balance 20, 30, 50, One
MAX On-The-Go, BR
Surf SOHO, On-The-Go
AP One mini, AC mini, 300M, In-Wall, Flex
AP Pro
FusionHub Essential, FusionHub Pro

For MSPs and service providers, InControl 2 will be available as a value-added managed service. Details to be announced soon.
Peplink Products
Pepwave InControl 2
1-Year InControl2
#ICS-012
Our Price: $29.00
2-Year InControl2
#ICS-024
Our Price: $49.00