Pepwave AP Pro

Rugged Outdoor Wi-Fi that Goes the Distance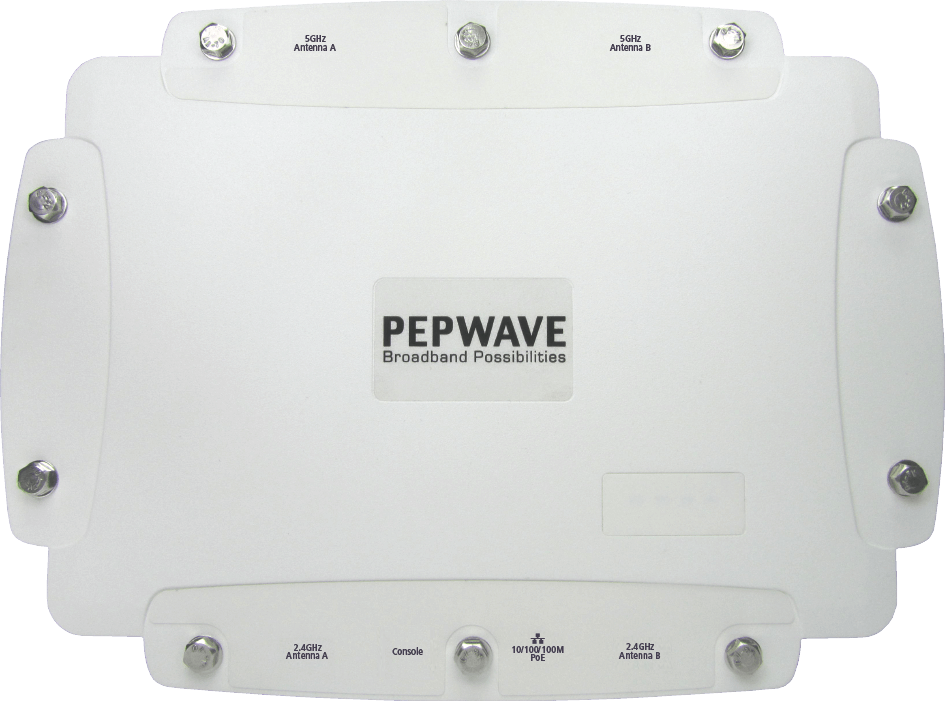 Peplink Products
Pepwave AP Pro
Peplink AP Pro 300M
#APP-AGN
Our Price: $349.00
Peplink AP Pro Duo
#APP-AGN2
Our Price: $549.00
AP Pro AC
#APP-AGN3
Get a Quote!
More pricing below, click here!
Overview:
Deliver fast and reliable Wi-Fi in even the harshest conditions with the Peplink AP Pro. The AP Pro's sealed, all-metal IP67 enclosure stands up to dirt, water, and extreme temperatures for years of dependable operation in industrial, public safety, transport, and other applications. Built-in PoE gives you more installation options and reduces deployment costs. And intuitive console- and cloud-based control makes configuration and maintenance simple for everyone.
Heat, Cold, Dust, and Water. All in a Day's Work.
Built from tough aircraft-grade aluminum and sealed against water and dust, the AP Pro handles just about anything the factory floor, construction site, or Mother Nature can dish out. The AP Pro can also withstand temperatures from -46° to 65°C, and it's protected against ESD and surges, so it stays up and running in conditions that would quickly shut down other access points.

DC and PoE. The Power to Install Anywhere.
Power can be a problem in outdoor and industrial environments. But not for the AP Pro. With onboard DC and PoE connections, the AP Pro Duo and 300M can be easily installed where other access points can't, and you won't have to spend a fortune on cabling and electricians.

Onsite or in the Cloud. Complete Control, Just a Click Away.
The AP Pro features Peplink's WLAN Controller for quick and simple onsite setup and configuration. Not onsite? Not a problem. Just open a Web browser and take control anywhere with our cloud-based InControl configuration and administration solution.
Features:
Network

Bridge Mode
Router (NAT) Mode
Wireless Distribution System (WDS)
Support for PPPoE, Static IP, DHCP
Management VLAN (802.1p)
Spanning Tree Protocol (802.1d)

Radio

Multiple SSID
Auto Channel Selection
Transmit Power Adjustment
Neighbor AP Detection

Client Managment

Per SSID

VLAN with QoS (802.1p/802.1q)
Bandwidth Control
MAC Address Filtering
Layer 2 Client Isolation
Limit on Max. Number of Client

Per Client

VLAN with RADIUS
VLAN with VLAN Pool
Bandwidth Control

Multicast Filter
IGMP Snooping/Multicast Enhancement

AP Security

Open, WEP
802.1x with Dynamic WEP
WPA-PSK/RADIUS
WPA2-PSK/RADIUS

Complete VPN Solution

PepVPN

Site-to-Site VPN
256-bit AES Encryption
Pre-shared Key Authentication
Dynamic Routing

L2TP

Captive Portal

By InControl
By FusionHub Controller
By Balance WLAN Controller

Device Management

Web Administrative Interface
InControl Cloud Management
FusionHub Controller
Peplink Balance WLAN Controller
SNMP v1, v2c and v3

Certification
FCC, CE, RoHS
Product Views: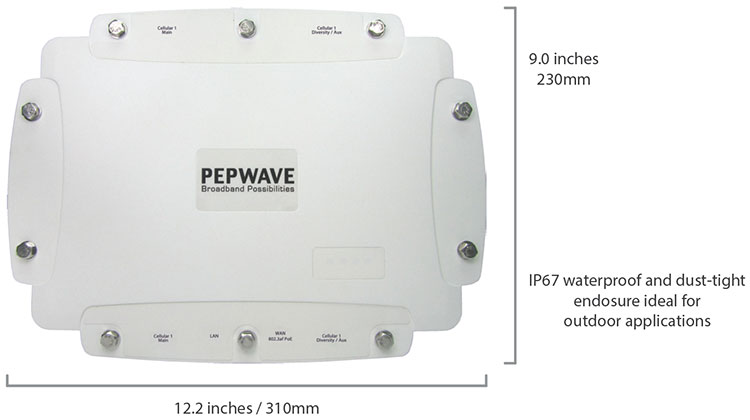 Specifications:
Model
AP Pro
AP Pro 300M
AP Pro Duo
Product Code
APP-GN
APP-AGN
APP-AGN2
WAN Interface
1x 10/100M Ethernet Port
LAN Interface
802.11b/g/n 300Mbps
802.11a/n or 802.11b/g/n
300Mbps
802.11a/n and 802.11b/g/n
600Mbps
Wi-Fi Operating Frequency
2412 – 2472 MHz
2412 – 2472 MHz or
5180 – 5825 MHz
2412 – 2472 MHz and
5180 – 5825 MHz
Antenna Connector
2 x Female N-Type Connector
4 x Female N-Type Connector
Enclosure
IP67 Outdoor Metal Enclosure
Dimension
9.0 x 12.2 x 2.6 inches / 230 x 310 x 66 mm
Weight

5.84 pounds / 2.65 kg

Power Input
Power over Ethernet 802.3af
Power over Ethernet 802.3at
Device: 10V - 30V DC
Power Consumption
13W (max.)
19.5W (max.)
25.5W (max.)
Operating Temperature
-40 - 149°F
-40 - 65°C
Humidity
15% – 95% (non-condensing)
Certifications
FCC, CE, RoHS
Warranty
1-Year Limited Warranty
Pricing Notes:
Pricing and product availability subject to change without notice.
Peplink Products
Pepwave AP Pro
Peplink AP Pro 300M
#APP-AGN
Our Price: $349.00
Peplink AP Pro Duo
#APP-AGN2
Our Price: $549.00
AP Pro AC
#APP-AGN3
Get a Quote!
Accessories
802.3af/at PoE Injector
#ACW-107
Our Price: $79.00
Peplink EssentialCare
Support Ticket (8 x 5) directly with Peplink and Standard RMA Warranty
EssentialCare for AP Pro 300M, 1-Year
#SVL-746
Our Price: $59.00
EssentialCare for AP Pro 300M, 2-Year
#SVL-624
Our Price: $109.00
1-Year EssentialCare
#SVL-747
Our Price: $109.00
EssentialCare for AP Pro Duo, 2-Year
#SVL-625
Our Price: $179.00
Peplink EssentialCare +
Support Ticket (24 x 7) directly with Peplink and Advance Hardware Replacement RMA Warranty
1-Year EssentialCare+
#ECP-B-1Y
Our Price: $89.00
2-Year EssentialCare+
#ECP-B-2Y
Our Price: $152.00
4-Year EssentialCare+
#ECP-B-4Y
Our Price: $250.00
1-Year EssentialCare+
#ECP-C-1Y
Our Price: $129.00
2-Year EssentialCare+
#ECP-C-2Y
Our Price: $220.00
4-Year EssentialCare+
#ECP-C-4Y
Our Price: $362.00